The Black Body Reimagined and Reclaimed in Eve Ewing's Electric Arches and Briana McCarthy's "Garden of Lost Dreams"
              In

Afrofuturism: The World of Black Sci-fi and Fantasy Culture

Ytasha Womack examines a technique of Black cultural productions that she claims "intersects imagination, technology, the future and liberation" (9). Engaging in the experimentation of combining common themes, archetypes, and tropes celebrated and/or well known amongst the different communities of Black folks and propels them into the future is no new phenomenon. Rather, surrealists and futurists aesthetics engage in a temporal process as they continue to work off of their literary and visual predecessors. Black speculative texts give us an alternate reality to imagine and see ourselves in a view outside the realms of anti-Blackness. It reveals different understandings of Blackness that are far too often excluded from white dominate cultural productions, thus their importance to Black imagination and efforts toward liberation. Womack asserts that afro-futuristic texts act as a sort of "soul retrieval and jettisoning into the far-off future and imagination" (2). This observation provokes my main concern in this essay: the way Black speculative works retrieve Black bodies and imagine an alternative existence outside the secular bounds of anti-Blackness.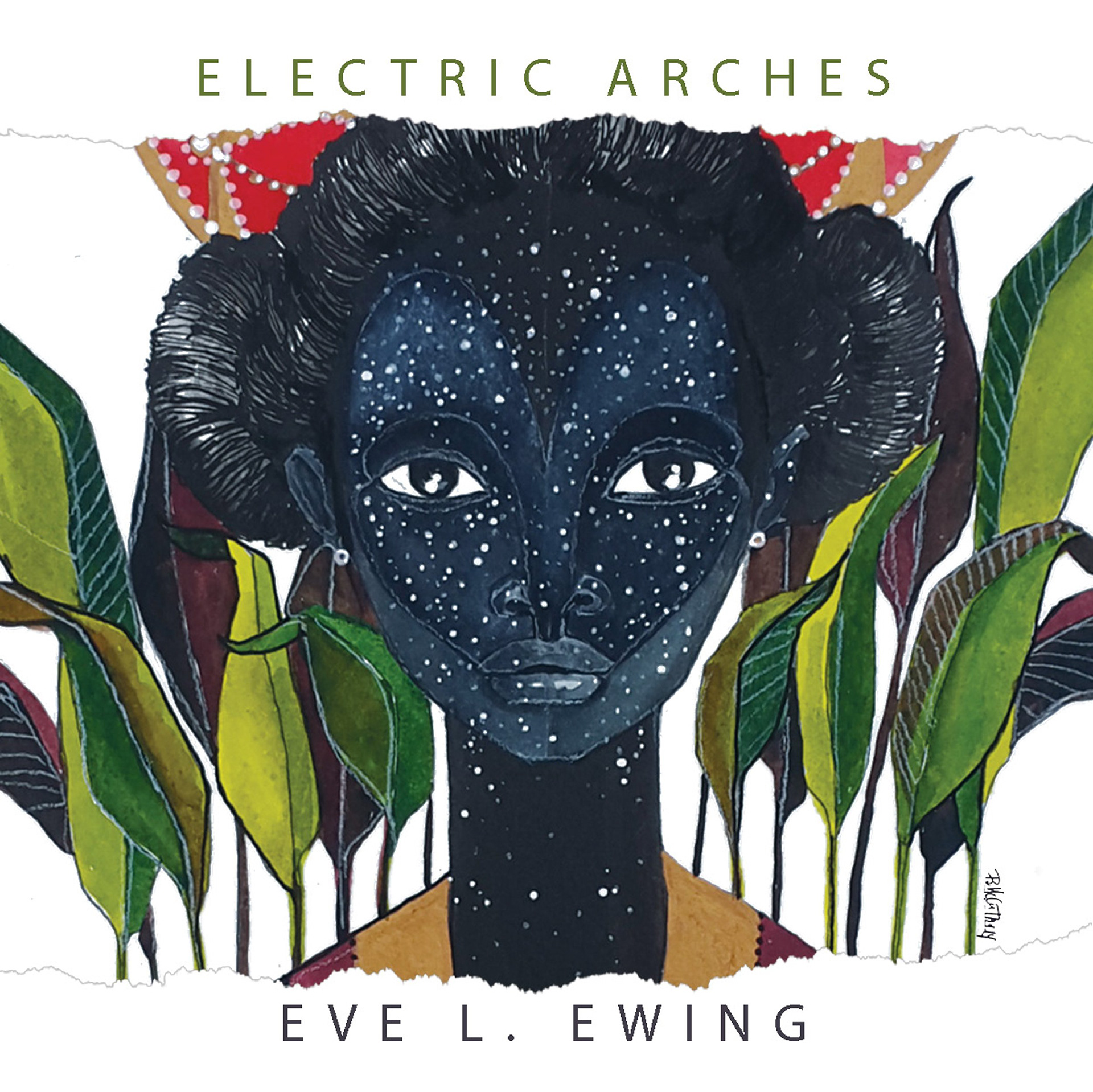 In this essay, I offer a literary and visual analysis of Eve Ewing's "Arrival Day" in

Electric Arches

and Brianna McCarthy's "Garden of Lost Things," apart of her 2014

Vetiver Night Women

series (Figure 1). I argue that the portrait in the mixed media art piece that serves as the book's cover art is a visual representation of The Moon People in "Arrival Day." I use Alexander Weheliye's concept of Habeas Viscus, "You shall have the flesh," who is also influenced by Hortense Spiller's distinction between body and flesh, to argue that Ewing and McCarthy's texts work together to illustrate an alternative understanding of Black embodiment by reimagining Black flesh (Weheliye 3). After a brief introduction of Ewing's

Electric Arches

and McCarthy's

Vetiver Night Women

, I move into the first part of this essay which follows Weheliye problematization of bio-politics. I show how Ewing's text conveys that Black bodies are rendered Homo Sacer in anti-Black society. Following Spiller's notions of the flesh as antecedent to the body, the second part of the essay demonstrates how Ewing and McCarthy show Black liberation from white capitalism an owndership by imagining Black bodies, or bodies that have been greatly influenced by Black cultural productions, whose other worldly-like flesh cannot be marked by white supremacist discourse (Spiller 67). Ewing and McCarthy's texts demonstrate Weheliye and Spiller's theories by offering a creative representation of the "fleshly surplus" that Weheliye suggests is activated by "political domination" (2). I'm influenced by his refusal to believe that Black bodies simply rest in bare life, rather he suggests that there are alternative understandings of lifeforms that bring forth "lines of flight, freedom dreams, practices and liberation, and possibilities of other worlds" (Weheliye 1).
          Ewing's

Electric Arches

is a visual-poetic texts that allows for re-imaginings, or "re-tellings" as she often calls it, of coming of age experiences as a young Black femme glowing up in Chicago. These re-tellings adjust past experiences and re-imagines an alternative view of the situation in a way that allows the narrator to reclaim her significance and utilize the power of imagination. In an interview with Pamela Avila for

Los Angeles Review of Books

, Ewing states that the importance of the retellings: "it's not that this is the way, but this is one way to respond creatively and emotionally." Her text constantly grapples with the possibilities of freedom for Black
femmes
 in a world that refuses to give us such. Ewing texts embodies Womack notions of taking folks "light years away from home," especially when home is a place that uses our black body for white supremacist gain (1). It works to bridge the past and present by calling attention to way anti-Black discourse and ideologies affect Black lives.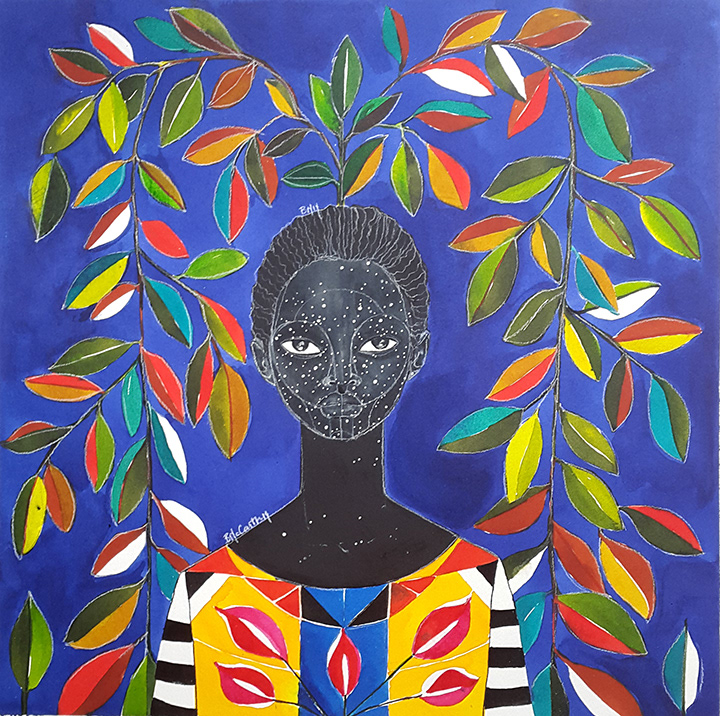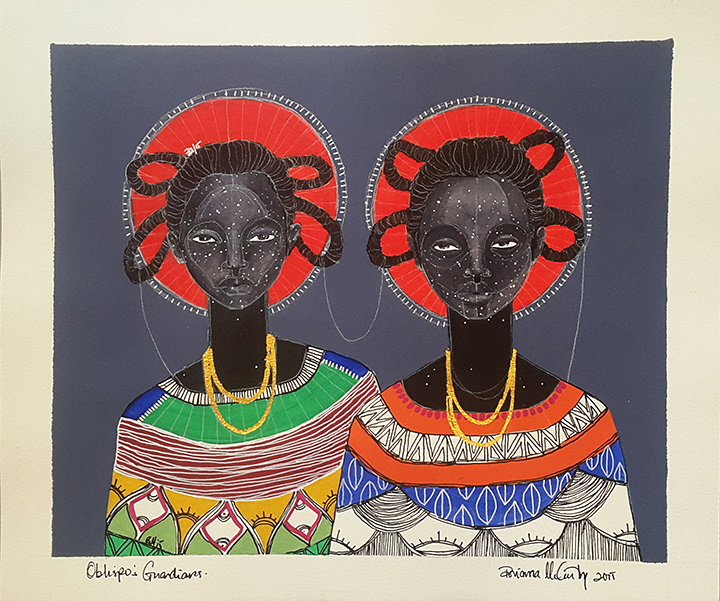 Brianna Mccarthy, an artist based in Trinidad, describes herself as a "mixed media visual communicator who aims to create new discourse examining issues of beauty, stereotypes, and representation" (Nixon). A common thread of her work is changing the flesh of the portrayals of Black bodies. Her series,

Vétiver Night Women,

envision
femmes
The Flesh as a symbol of working racializing assemblages. 
              Ewing opens up the text with "Arrival Day," a poetic narrative that juxtapose surreal Black bodies that come from another world, realm, or existence next to the life of Black bodies who exist amidst white supremacy. After the narrator recalls the arrival of the moon people, there is a sharp contrast of a Black boy stopped by the police. When the narrator recalls the boy's "younger days," she recalls a life that is hidden or not acknowledge by the systems of power (Ewing 6). The narrator knows the boy as someone "who danced his way from his own porch to the basketball court, [and] who loved lime popsicles the best" (Ewing 7). She remembers someone who has a love and joy for life; however, when the police looks at him they see someone who's Black body has placed him in bare life. The narrator sees the police stop the Black boy "mid-two step" to ask him questions that had the "query beneath them… 'why are you alive?'" (Ewing 7). I argue that the young boy dancing demonstrates Black folks experiencing a politically qualified life, an enjoyment of life in one's body. Western political techniques of state power interrupts this enjoyment, which not only excludes Black folks from the protection of the state but reduces their bodies to the property of the state.
        As Weheliye notices, Black bodies are understood as Homo Sacer and are reduced to bare life under the power of white supremacist, one who is outside the protection of the state and divine law and included within the maintenance of sovereign power. Agamben calls on Pompeius Festus to define Homo Sacer:
The sacred man is the one whom the people have judged on account of a crime. It is not permitted to sacrifice this man, yet he who kills him will not be condemned for homicide… This is why is customary for a bad or impure man to be called sacred. (77)
           The scene with the young Black boy reflects the generational recurrence of Black folks being killed by law enforcements with little to no repercussion on their part. It seems as though we have committed a crime of existing when the state has declared ownership over our bodies, which give them the ability to killed us without being charged for homocide. Spiller indicates that this is a generational problem that comes as a marker of skin color, or racializing assemblages, which Weheliye contends is the process that defines one as human, not-quite human, and non-human.  Spiller states: "Undecipherable marking on the captive body render a kind of hieroglyphics of the flesh whose severe disjunctures come to be hidden to the cultural seeing by skin color" (67). This act of marking flesh by way of racialization comes from the use of tools— "iron, whips, chains, knives, canine portal, bullets, etc"  that wound the flesh (67). This wounded flesh indicates a body that has been stolen and rendered property of the state. Ewing has several moments that show how the Black body is marked is a source of exclusion, for example in one of the re-tellings when the narrator rides on the her bike, a white lady tells her to go back to her Jesse Jackson neighborhood, which signifies redlining as an act of judicial power to maintain white supremacy. In the middle of the text, in big, bold letters, resembling comic sans font, it states " I wanted a map not to know where things are, but to know where I am" (Ewing 19) I believe this desire for a map indicates Black folks wanting a position in the place we inhabit, but our position of bare life in the anti-Black system prevents this knowledge. Ewing also demonstrate how black bodies are excluded from divine law as they are often marked "sinful and immoral" (Agamben 77)  Ewing points to such with the "hateful men" in arrival day ( and I will discuss this in more detail) who make clear that Blackness is associated with evil. They fear the arrival of the moon people who's immoral ways will turn everything black. Throughout the text, Black folks are constantly being asked why they are alive" and "why are they black." In the face of the white public there is a steady acknowledge of their marked black body. Each time the Black body is acknowledged by white characters, the branding that points to their bare life position in white sovereignty is seen.
                  Agamben asks, "what then is life of homo sacer if it situated at the intersection of a capacity to be killed and yet not sacrificed, outside both human and divine law" (73)? Weheliye seems to answer this by suggesting that there is an "existence of alternative modes of life alongside the violence, subjection, exploitation, and racialization that define the modern human" (2). With the use of the phrase Habeas Viscus, Weheliye calls attention to a fleshly surplus that is activated by political dominations. This fleshly surplus on the one hand calls attention to the domination of the marked body, but on the other hand shows how political domination cannot diminish fight for freedom. Weheliye suggest by reclaiming the flesh we can acknowledge the position of the black body in bare life, but we must move beyond these politics and into a realm of post-humanist discourse where we can imagine the "social (afterlife) of civil death" (3).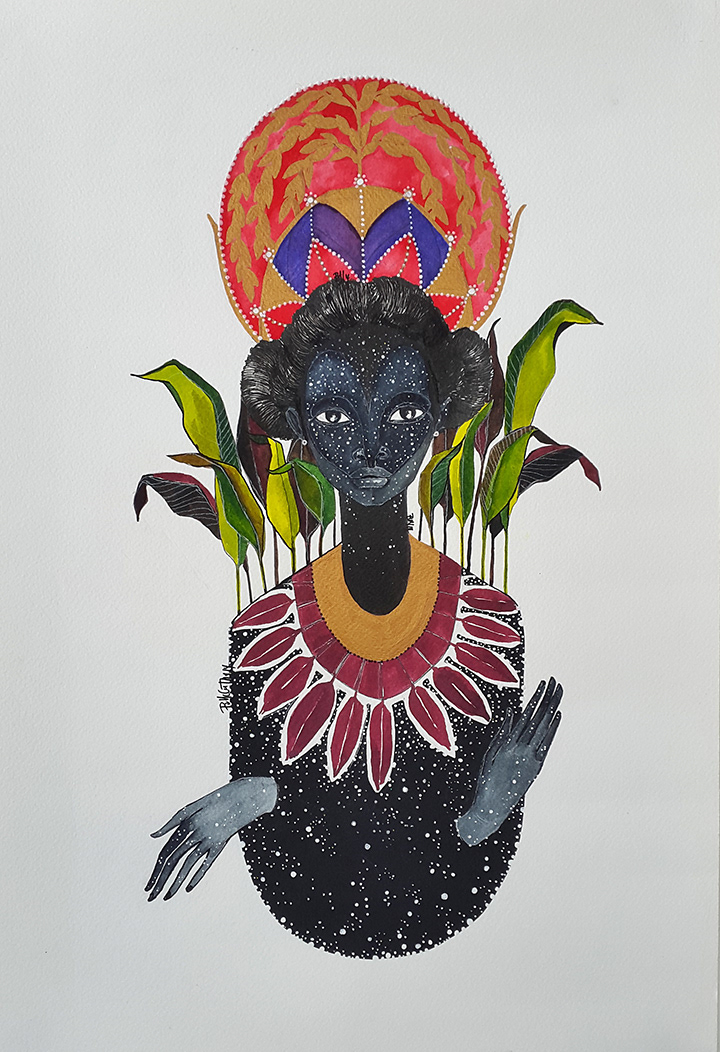 In "Garden of the Lost things" the person centered on the canvas has flesh that resembles the stars of the galaxy (Figure 3) . Her body appears otherworldly, but her attire, the red and golden crown and feathered shawl, and multi-hued leaves on either side of shoulders appears secular. Particularly, her bright color attire shows McCarthy's influence of Caribbean cultures, especially during festivals like Shrove Tuesday, when the streets of Trinidad (and other places) are filled with Black folks dancing and celebrating in elaborate bright dressings, headdresses, and masks. This combination of alien-like, but secular reiterates Black folks yearning to find beauty and worth in our multitude of cultures without being harmed by anti-black discourse. I read this as a portrait of a galaxy warrior who is greatly influenced by Black cultures, much like the moon people. Her hair is in two buns that resemble Princess Lai, the iconic rebel princess of the galaxy. Womack gives a brief anecdote in the aforementioned text where she recalls dressing as the princess to assert her position as a warrior in the Black future because she could not depend on white dominated media to do so. In "Black Futures," Nixon writes: "Each Night Woman is a spirit guardian, evoking feminine magic." The position of her hands resembles the position of "the Magician" in Tarot cards, who represents logic and intellectual abilities and is often known as the middle-person to the spirit and secular worlds. The position of one hand pointing upward and one pointing downward represents the phrase: "as above, so below." In magic, hoodoo and other occult traditions this phrase represents a full connectivity of the universe. By symbolizing this phrase, she asserts her control of the entire other worldly and earthly experience. However in most tarot cards, hands that symbolize this phrase are pointing straight up and down; however, the woman in the portrait arms are cross. I believe this symbolizes how this images works to disorient the western ideas of magic and suggest that there may be new knowledges of the universe.
         Weheliye's

 "

Habeas Viscus" works off of Spiller's distinction of the body and the flesh. According to Spiller, before the body, there is the flesh. Spiller suggest that a way for subjected folks reach a "truer sense of self" and acknowledge the alternative mode of life that lies alongside political domination, we must recognize a different understanding of the flesh by finding the flesh that rest underneath the stolen body. Spiller writes:
There are markers so loaded with mythical prepossession that there is no easy way for agents buried beneath them to come clean. In that regard, the names by which I am called in the public place render an example of signifying property plus. In order for me to speak a truer word concerning       myself, I must strip down through layers of attenuated meanings, made an excess in time, over time, assigned by a particular historical order, and there await whatever marvels of my own inventiveness.
           I argue that both Ewing and McCarthy portray Spillers suggestions of stripping down the layers of nominations, meanings, codes from white supremacist discourse that comes to cover and embed itself into Black flesh in order to create a different understanding of Black flesh outside of the realms of white supremacist discourse. To Spiller the flesh is the "zero degree of social conceptualization that doesn't escape discourse." Although flesh cannot escape social conceptual discourse, it doesn't have to be attached to the racializing assemblage discourse. If we attached the meaning of the flesh to Black empowerment and liberation discourse, then perhaps that could present a different ideal of the Black body. Ewing shows how the political domination tries to mark othered folks, the moon people, and render them homo sacer, especially those who embody blackness:
 In the years before, when hateful mean warned of the  coming… they spoke only of darkness. 'Their eyes will be dirt' the men said, 'and they will cover the windows with tar in the places where we talked to god. They will seize our daughters who will return to use in rags, holding mud babies and asking for a room to sleep… they wrote letters to each other about how the coming people would steal.. How the girl ones were greedy and lustful. The small ones will trick you, looking like children, but their skin was mercury… they are coming and they will paint everything black.
       When the "hateful men" talked about the moon people, their discourse attempted mark their bodies as immoral, savage, lustful, sacrilegious, which, as Pompeius Festus notes, is why one can be placed outside of divine and political law and protection. Their discourse further upholds white supremacist ideals about Blackness; however, when the moon people arrived, "they [hateful men] had no words for them." Ewing uses the alien trope in afro-futurism to imagine flesh that exist outside the realm of sovereign discourse. They cannot be captured by the forms of white supremacist logic previously used to capture black bodies. They arrive "between the hour when the press stops running," so they are not affected by Western political techniques, such as security, press and propaganda. They turn camera lens into "salt and cast white trails across the eyelids of the onlooker." They emptied the security footage of their arrivals "as if each of them had a magnet for a beating heart, their veins murmuring clear it away until the tape was empty." Because Flesh is the temporal and conceptual antecedent to the body and the flesh of the moon people is outside of western notion of what constructs a human understanding and thus cannot be marked, the moon people have a completely different understanding of Blackness that allows them to have access to a different body that works to free captured black bodies. The moon people come down and destroy sites known to capture Black bodies and lives. They turn jail cell doors into bicycle chains and fare boxes at the train states into wind chimes. Both the prison system and capitalism work to keep black bodies at the possession of white economic power; however, the moon people's destruction gives way for black folks to escape to freedom, seen in the symbolism of the bicycle chain and free rides on the train.
                 The narrator images a liberation that comes in the form of another body that exist outside the humanist ideology. It is as if Ewing and McCarthy defy the racializing assemblages and create another life form that white supremacist discourse has no control over. Not only is this seen in the moon people, but it's also seen in the last stanza when the young boy who the police stopped mid-dancing, mid-enjoyment of life, comes up to the narrator who sits on a porch with peeling paint, which I see signifies the way the narrator has peeled away the body created by the white imagination and to see a new body. When the young Black boy approached her, his skin glowed like the lightning bug that flew up beside him, and says, "we are free now."