Curating doesn't always get its start in curatorial studies. I love to use my research skills in Black studies to aid in the conversations that are invoked by curated art shows. I wish that academia would honor art more than just for its aesthetic value. Art communicates deep thought and doesn't necessarily *need* scholars to make sense of it. However, artists, scholars, and other thinkers can be in conversation with each other expressing ideas in equally valid and validating ways.

I'm community focused, especially in regards to the arts.. I began this journey in curation when I spent a year as a gallery manager/director for a small gallery in Chicago, IL, The Beans Gallery, before coming to UW. In that position, I was committed to providing a place where people who felt like they were being pushed out of the area could have space where they are heard, and their creative and activist work could flourish. I carry this mission forward with my future community-oriented projects. 
Black Invention in 3 Parts
Showing at SOIL art gallery in February 2023 
The show presents speculative, surreal, and ethereal literary and visual arts by J K Chukwu, August Oaks, and Frantece. Through storytelling and multimedia installations, the show honors and takes up Hortense Spillers's— the phenomenal Black feminist literary and cultural critic— notion of inventing oneself despite living in a world that is so ready to define Blackness without our input. We take part in collective Black imaginations and our ability to create alternative and otherworldly Black beings and existences. A self in one's own image. Perhaps even a truer image.  



Black Invention in 3 Parts

journeys through three sections. "The Underworlds" showcases works that portray Blackness in the underworlds. Rebuking Blackness as evil to support racists tropes, this room engages in imaginative play by contemplating how Blackness can exist in Hell, darkness, and underground. "In Space," will showcase Blackness as existing in the cosmos and on exoplanets, like Europa, Venus, Kepler, and other places inside/ outside of our solar system or galaxy. It imagines what these worlds can look like and how Blackness is embodied in these cosmic worlds. And keeping with space but going beyond into an unfathomable place, "Black Holes" demonstrates the intimacy of knowing Blackness. How can Blackness exist when it's off limits to those who are not part of the culture? Black holes are phenomena that can't be understood through normative ways of knowing— much like how one can think about Blackness. "Black Hole" invokes sacred intimacy, secrets, and opacity. Together these sections invite viewers, especially and primarily Black viewers, to unleash their otherworldly imaginations and travel with the artists outside of this world.
Queer Imagination: Ecstatic Worldbuilding
Showed at The Jacob Lawerence Gallery in June 2021 
Queer Imagination asks, how can creative works distort material realities and offer an ecstatic world that offers new ways of being, thinking, and knowing that can be explored through an imaginative shift? This exhibition brings together Meshell Sturgis, August Oaks, Nanya Jhingran, and Rasheena fountain to honor their imaginative worldbuilding techniques. Their artworks and scholarship work together to offer insights for how the world governed through violent logics can be radically warped, shifted, redesigned, or altogether burned to the ground. We work to build a world that can only be accessed through ecstatic means of imagining otherwise existences.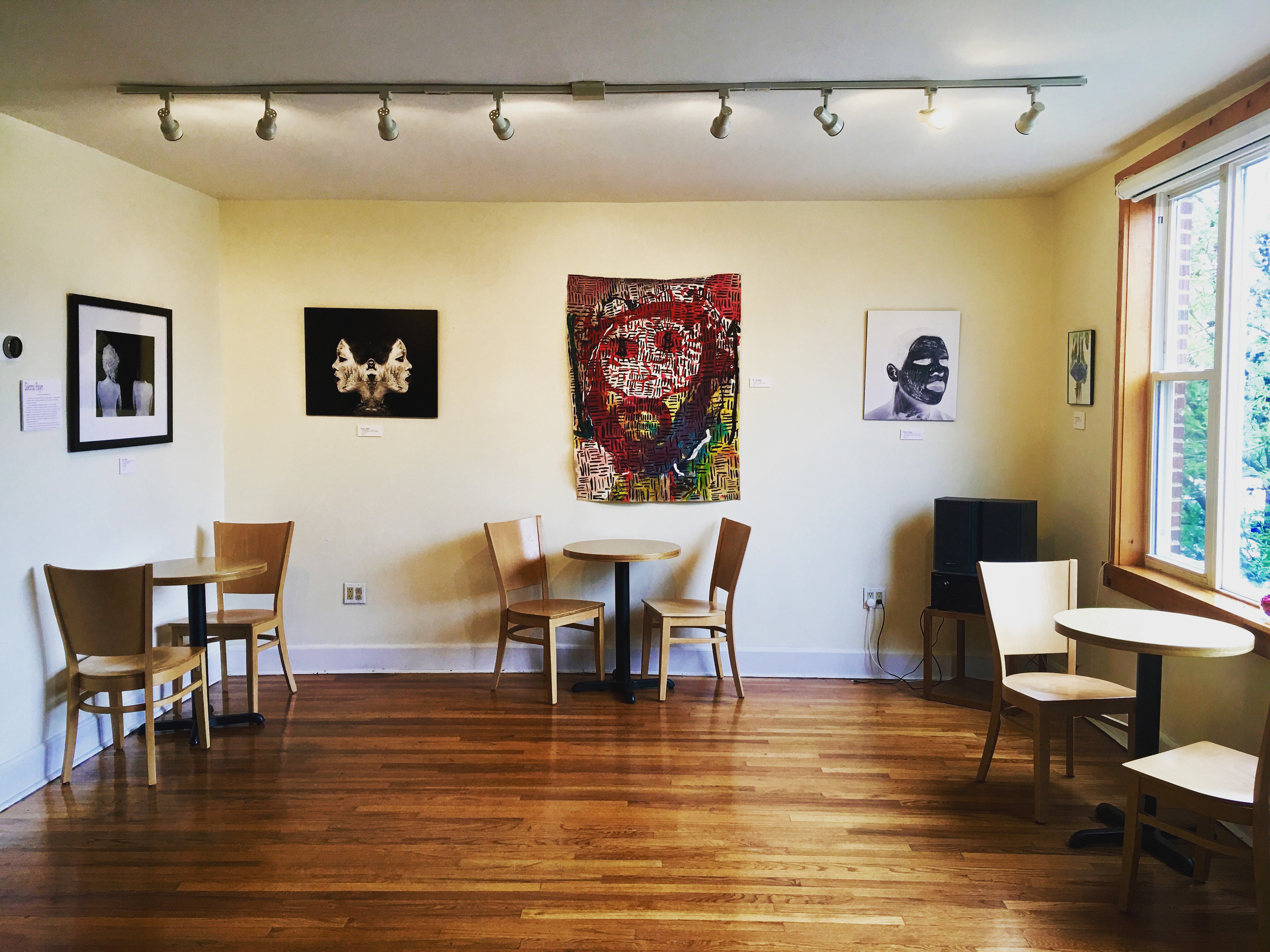 Juneteenth: Contemplating Blackness and "Freedom"
Showed at The Beans Gallery in June 2017 
This show started as a conversation between me and JK Chukwu, who is a fiction writer and visual artist with Jill Grinberg Literary Management. A few months later, I organized a show that aimed to contemplate and celebrate Juneteenth, the official "freedom" day for enslaved 
peoples in America. This show asked viewers to consider what it means to be "free" and Black in America today and throughout time. Many of us think of liberty as being without external restriction and constraints, but has this ever been the state of Blackness? I provided a space of Black artists to reflect on what freedom looks like for them in all of their honest and irony. What I found to be a common is many artists spoke of a  constant desire for freedom, but this desire always seemed to be in a far-off horizon. This show brought together visual artists, musicians, storytellers, poets, comedians, and dancers.   
With the show, I had the opportunity to manage the floor layout, reach out to different artists, promote the event to wider public, and bring people together to build community.  
I co-curated this show with JK Chukwu. We wanted to think about how Black & Brown Queer peoples heal in a world that constantly wounds us. 
Amethyst was about resisting white supremacy and heteronormativity. This show was a celebration of our existence. We were here to bring life, love, and acceptance into our spaces. Chukwu and I aimed to provide a safe(r) space to focus on people of color and queer folks who articulate their experiences at many intersections-- gender, sexuality, class, etc. We wanted to learn from each other and help each other heal. We brought together visual artists, poets, and musicians for a night of celebration. 
With this show, I had the opportunity to co-create with an amazing colleague as we work together to manage the floor layout, network with artist across the Chicago area, and promote our event.